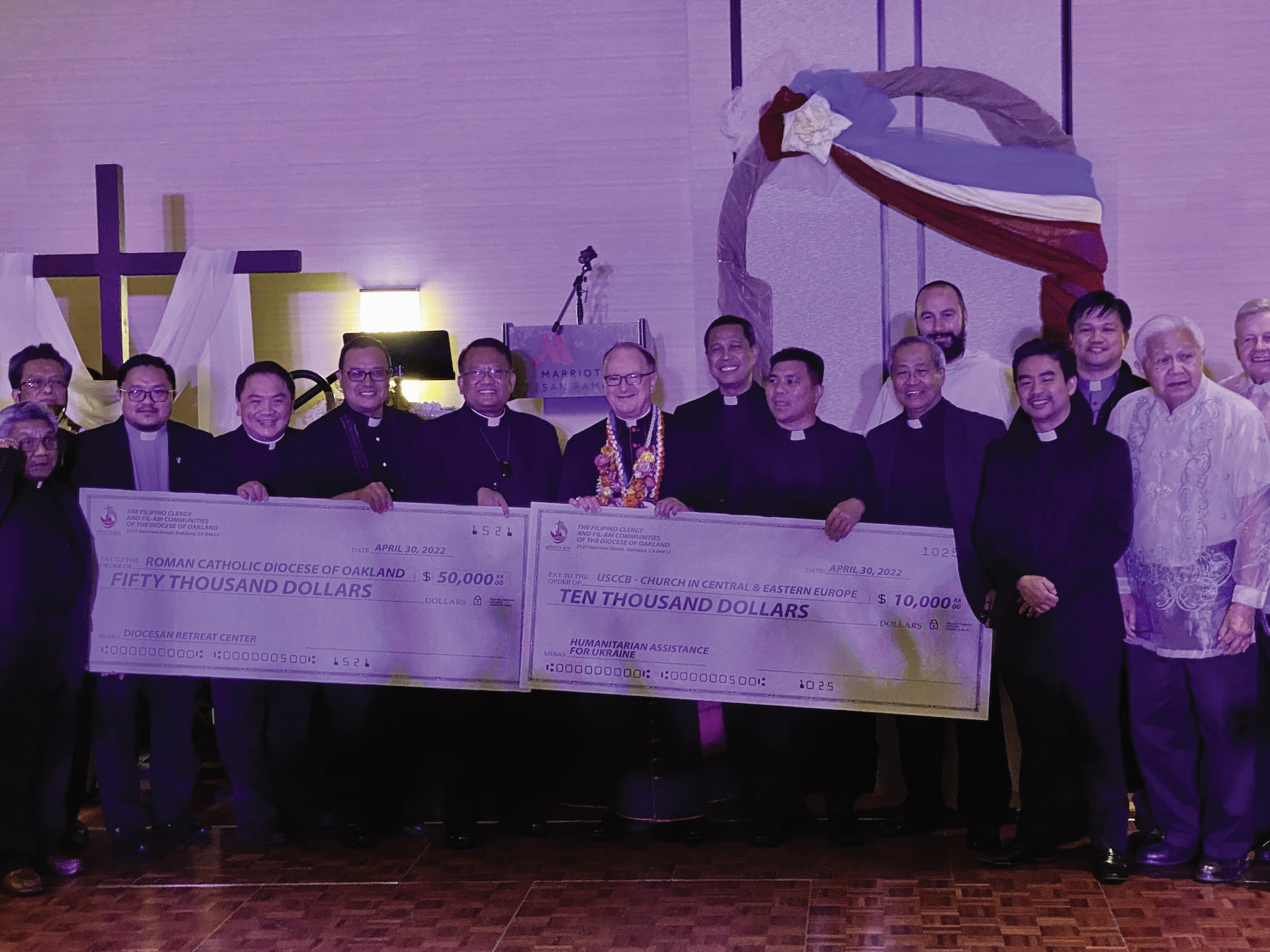 Archdiocese of Oakland Celebrates 500 Years of Christianity in the Philippines —
SAN RAMON — It's been more than 500 years since Portuguese explorer Ferdinand Magellan, under the banner of Spain's King Carlos, shared his faith with Cebu's tribal king Humabon and more than 2,200 of his followers in 1521.
Since then, the Catholic faith has spread throughout the Philippine archipelago made up of 7,701 islands. Today, 8 out of 10 Filipinos out of 112,273,356 (as of May 2022), or 87%, are Catholic. It is the only predominantly Christian nation in Asia and the third in the world after Brazil and Mexico. For political and economic reasons, there are now 12 million Filipinos spread across the globe – carrying with them their unwavering faith.
Filipino expatriates in Europe, the Middle East, the United States and elsewhere are said to fill Catholic churches that have lost parishioners to their own migrations. And Filipino priests followed and served the spiritual needs of their flock across these nations. Prof. Carl Arcosa, Diocesan Vocations Director, said that in the Diocese of Oakland alone, there are 15-17 Filipino priests and about 200,000 Filipino families. With so many Filipinos, the iconic Filipino tradition of "Simbang Gabi(nine dawn masses in anticipation of Christmas) is now celebrated in 30 of the 82 parishes of the diocese.
Bishop Michael C. Gordon, SJ of the Diocese of Oakland has this to say, "500 years of Catholic faith coming to the Philippines is a great testimony to the faith of the Filipino people that they have accepted the gospel of Jesus Christ. , and it took deep root. Filipino Catholics, Priests and Sisters went around the world and kept the faith alive everywhere, including in Oakland and San Francisco. So, it is really a great testimony of their missionary zeal and their fidelity to Christ. They brought their faith and transmitted it to their families, to their children and their faith continues to grow thanks to the fidelity of Filipino Catholics.
"Gifted to give"
The generosity of the more than 500 guests at the event, mainly Filipinos, raised more than $60,000 during this gala. Organizers surprised Bishop Gordon with a check for $50,000 donated to the Roman Catholic Diocese of Oakland for the Diocesan Retreat Center and $10,000 for humanitarian aid to Ukraine.
Five years of preparation
Pr. Erick Villa, SJ, parish priest of St. Raymond de San Ramon Parish, and organizer of the celebration, wrote this in his invitation: "After a series of symposia, fellowship and liturgies over the past five years, all roads lead to this event that will be filled with conversation, culture, food, dance and memories to cherish for generations to come!"
It is true that before the doors opened for the gala festivities at the San Ramon Marriott, on April 30, 2022, there were three food stations each loaded with a set lechonvegetarian lumpie and lumpiang Shanghai. A Sinulog parade preceded the reception dinner, with the "Queen ElenaMrs. Philippines USA Tourism Bianca Tapia, carrying a small bronze image of the Sto. Niño de Cebu, who was later inducted into the ceremonial bow onstage.
Like any official Filipino business, a Rigodon of The honor was presented led by Deacon Rey and Rose Encarnacion of St. Agnes Concord Parish, Geof and Pat Saturnino, Alex and Ler Paras of Holy Spirit Parish, Fremont; and Helen Cabiles and Johnny Veloso of St. Anne's Parish, Union City.
There were folk dances from the Mabuhay Folklorico Society and patriotic songs from Ariel Mayormita of St. Joaquim Parish and Father. Theodbriel (Bong) R. Villariza, Jr., St. Michael's Church, Livermore. Most of the guests wore their beautiful regional Filipino attire.
California State Council Knight of Columbus Noel Panlilio said the 500 years of Christianity in the Philippines is a "…manifestation of our faith."
Indeed, it was an evening of giving, not only culturally, but spiritually. Before the evening was over, each of the more than 500 guests received a miniature bronze image of the Sto. Niño de Cebu blessed by Bishop Gordon. Before the distribution of the image, Fr. Villa prayed: "Grant us the grace we need to continue your mission. (Esther Misa Chavez)