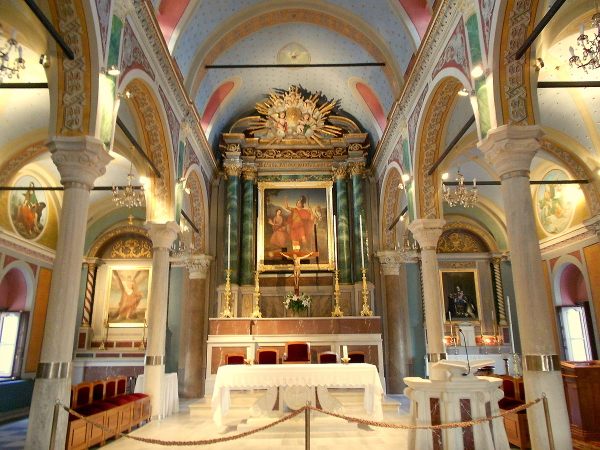 Catholic Church of Agios Georgios – Ano Syros, Greece
Greece is one of the eastern countries The most Orthodox Christian countries in Europe with 90% of the population practicing the religion. This church overlooks a national anomaly: the most Catholic region in the heart of the Aegean Sea.
Agios Georgios, also known as San Tzortzis to locals or the Catholic Cathedral of Saint George to English speakers, in Ano Syros was first built in 1208. Since the 13th century the church has been destroyed and rebuilt three times. More recently, in 1617, Turkish invaders destroyed the church. Architect Tinian Hadjisimos oversaw the last renovation in 1834, creating much of the church's current appearance.
The building is a three-aisled basilica with marble columns. Statues of saints made by 18th century Italian sculptors dominate the entrance. Carved wood cladding and Tinian-inspired marble flooring decorate the interior. Both have been completed since the 1834 renovation.
Numerous buildings surround the historic church: a bell tower, a baptistery, a sacristy, a guest room, historical archives, an episcopal palace and a ruined house. The church complex overlooks the town of Ano Syros, the historic medieval settlement of the island.
Ano Syros was originally built at the end of the Byzantine era. The island shares strong similarities with other medieval settlements in the Cyclades with dense, narrow roads resembling a fortified citadel. Catholicism in Syros was introduced immediately after the Fourth Crusade. For centuries, the population of the island was predominantly Catholic, so much so that in the 17th century the island was known as L'isola del Papa, the Pope's Island.
Today, Agios Georgios continues to be a religious center for the island's Catholic Greeks. The island's Catholic diocese has seven parishes, seven churches, 57 chapels and has approximately 9,000 faithful. Agios Georgios is the seat of the Roman Catholic Diocese of Syros and Milos, a fitting position for the historic church perched on an island hill overlooking the Aegean.