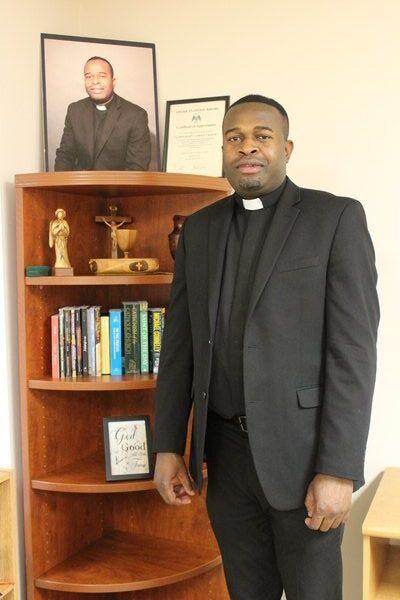 Getting to know … Father Damian Anumba, new priest of the Catholic Church of the Sacred Heart | Local News
CORBIN — The Catholic Church of the Sacred Heart welcomed a new priest, Father Damian Anumba, who took over as pastor of the church just a month ago.
Anumba is originally from Nigeria in West Africa. He is the fourth of six children and has completed his entire education, from elementary school until his seminary studies to become a priest, in Nigeria.
It was at the age of 12 that Anumba first received the call to become a priest.
"It's something that is mysterious to me," Anumba said of her calling. "When I was 12, back in Nigeria, it was around the time that I did what they call my Confirmation, my first communion, I started to have this desire, so I started talking to my pastor and I said 'I want to be like you.' "
After discussing it with his family, Anumba's parents enrolled him in the minor seminary, which is a secondary school established for boys who have expressed interest in becoming Catholic priests, at the age of 12.
After graduating from the minor seminary, Anumba admitted that his desire to become a priest was "extinguished".
"Maybe God wanted me to see the other side of life," he said. "As a priest you have to be holistic, you have to see life from all angles, so that when people come to you you know how to help them. So I think God wanted me to see the other side, so I left after high school and went into the world.
During this time, Anumba helped her parents with their business and made lots of friends.
"It was a time when God was exposing me to a lot of things to see which side I wanted to choose," Anumba said. "I call it the 'outside world' and I've been in the outside world for two years. This experience was so important to me.
After two years in the "outside world" Anumba's desire to become a Catholic priest came back even stronger and he knew it was where God wanted it, so he returned to the seminary and was finally ordained a priest. Missionaries of the Sacred. Congregation Hearts of Jesus and Mary.
After his ordination, Anumba was appointed administrator of a church in Nigeria for two years. Then, in 2017, Anumba was sent on his first overseas mission, where he was assigned to a parish in New Jersey.
After two years in New Jersey, Anumba was sent to Lexington, where he worked as a parish vicar or associate pastor at Christ the Kin Cathedral. During this time he also had the opportunity to study clinical pastoral education, which Anumba is very interested in.
Anumba said his two years as an assistant pastor helped prepare him for the greatest role he has ever had: his first assignment as a pastor, as Anumba is now pastor of the Sacred Heart.
During his first week as a pastor, Sacré-Coeur hosted his vacation Bible school, where Anumba got to really get to know the members of the church congregation.
Since then, Anumba has met different groups within the church, including the youth group where one of Anumba's main areas of interest is located.
"My main goal is to grow young people because they are the future of the church," he said. "When you get them to focus on what they want to do, the church will grow."
As pastor, Anumba hopes to encourage members of the Sacred Heart to use their talents for the good of the parish and hopes to be there for her congregation when needed.
"The most important thing for me is to make this place, especially for those in the parish, that this place be like their home," he said. "I want to make a family out of it.