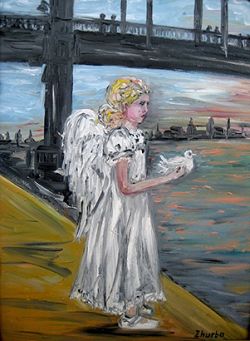 Local artist from Ukraine donates painting to Madeleine Cathedral
Friday, March 25, 2022
Courtesy picture
+ Expand
This painting, entitled "Crying Angel", was offered to the cathedral of the Madeleine by the artist Elena Roush. Originally from Ukraine, Roush now lives in Utah. The painting was exhibited in the cathedral during the March 2 Holy Hour of Prayer for Peace in Ukraine.
SALT LAKE CITY — A painting by Ukrainian artist Elena Roush completed in 2008 took on more meaning for her in light of the war in her homeland. "Crying Angel" depicts a young angel with tears on her face standing on the banks of a river holding a dove. In the background, shaded black, is a bridge and a city. The dove represents peace, and the angel in the painting is crying because the people on the bridge and the town hold him in such low esteem, Elena said.
"The angel knows it's not right, that people need to take care of each other," she said. "She asks people to be peaceful, loving and kind to each other."
The image is so powerful that it was used to illustrate the program of the Holy Hour of Prayer for Peace in Ukraine held at the Madeleine Cathedral on March 2. Lorena Needham, the cathedral's liturgy and music administrator, saw the painting online and asked the artist for permission to use it. Elena freely gave her permission and then donated the painting to the cathedral.
Elena grew up in a village in southern Ukraine near the city of Kryvyy Rih, the birthplace of Ukrainian President Volodymyr Zelensky. As an adult, she moved to Kyiv, where she lived before emigrating to the United States 14 years ago. "Crying Angel" was one of the first works she painted after arriving in the United States, she said.
She came to Salt Lake City because her daughter Olesya Ilkun was completing her doctorate in microbiology at the University of Utah. Olesya graduated from medical school in college and now works as a nephrologist at the University of Utah School of Medicine.
Olsya married her husband, Trevor Gordon, in the Madeleine Cathedral in June 2014. Trevor worked at the cathedral for several years as master of ceremonies for the liturgy, but had to resign due to his health, said Needham. The couple have two children aged 2 and 4.
Divorced from Olesya's father since 1995, Elena said she found love in Utah and married her husband, LeRoy Roush, in 2009.
In Ukraine, Elena worked for many years as a fashion designer and artist. After arriving in the United States, she chose to focus on her art and had a successful career, selling her paintings to clients from all walks of life through an online art auction house. She has also had many exhibitions of her work. Before the pandemic, she taught art classes at Art Haus SLC art school.
The war in Ukraine has left Elena feeling sick, unable to eat or even sleep most of the time, she said.
While Elena is now an American citizen, several members of her family remain in danger in Ukraine. Her nephew Olexander has enlisted in the Territorial Defense Forces while his wife, child, mother and wife's mother hide in the basement of a house built by Elena's father in their village native.
"The Ukrainian people, they defend their country because they have a heart," Elena said of Olexander and his compatriots. "They want to have freedom and live their own life without someone telling them what to do."
Olexander's mother, Natasha, is Elena's sister. Natasha lived in a high-rise building but agreed to move to the old family home after Elena begged Olexander to take her there for her safety. Elena and Olesya sent every penny they had to their families to buy a large amount of food to support themselves during the conflict.
Her compatriots have no desire to be part of Russia, Elena said. The cultures of the two countries are completely different, she says.
Elena had strong words to share about Vladimir Putin, the President of Russia. "He is a cruel person who wants to put the whole world under Russian control," she said.
Elena urged all Utahns who can to support humanitarian efforts for the people of Ukraine. She called on those who have no money to give to fight fake news by sharing the truth about what is happening in Ukraine on social media.
"Ukrainians are fighting for their freedom and their lives," she said. "They don't want anything; they just want to live in their own country.