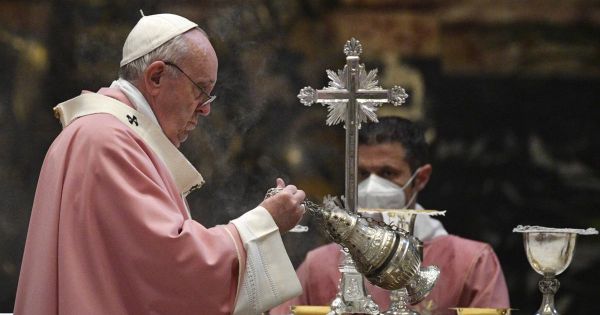 no blessing for same sex unions – MercoPress
Direct response from the Roman Catholic Church: no blessing for same-sex unions
Tuesday, March 16, 2021 – 08:19 UTC
Full article
The Vatican's Office of Orthodoxy said on Monday that the Roman Catholic Church could not bless same-sex relationships, in a statement approved by Pope Francis. The statement came from the Congregation for the Doctrine of the Faith (CDF) in response to a question about the church's power to bless same-sex unions.
??Negative?? was the response, signed by Cardinal Luis Ladaria, who heads the CDF, which was founded in the Middle Ages – in the year 1542 – to fight heresy. Ladaria said that was not possible because, despite "positive elements", ?? God could not ?? bless sin. ??
The decree comes less than a week after the EU declared itself an LGBTQ + ?? zone of freedom ?? in the face of the rise of homophobic policies in predominantly Catholic countries like Poland.
The official response went on to say that what is blessed must be ?? objectively and positively ordered to receive and express grace, according to the purposes of God inscribed in creation, and fully revealed by Christ the Lord.
"For this reason, it is not lawful to confer a blessing on relationships, or partnerships, even stable ones, which involve sexual activity outside marriage (that is to say outside the indissoluble union). of a man and a woman open in herself to the transmission of life), as is the case with unions between persons of the same sex, ?? the statement read.
Aiming for a moderate tone, the CDF writes that "positive elements exist within the framework of an unordered union in the plan of the creator". Nonetheless, the statement asserted that while the Vatican divinity "never ceases to bless each of its child pilgrims in this world… He does not and cannot bless sin.
Pope Francis has taken a more progressive approach towards LGBTQ + communities than his predecessors, with a now famous quote about gay people trying to live Christian lives: ?? Who am I to judge ???
The Catholic Church remains of the view that marriage is strictly between a man and a woman, although the Pope has expressed support for same-sex civil unions.
A 2003 decree attempted to follow a similar line, calling for respectful treatment of homosexuals, but saying that the church "can in no way lead to the approval of homosexual behavior or the legal recognition of same-sex unions."