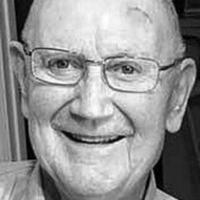 Robert Alexander Cooper father | Christianity
Robert Alexander Cooper Sr., 89, of Vine Grove, died Thursday, April 28, 2022.
Bob was a founding member of North Hardin Hope, a founding member of the Vine Grove Sportsman's Club and a life member of Knights of Columbus Father Diermert Council #3379. He was also the former owner of Bob Cooper Insurance Agency. Bob was a volunteer firefighter for the city of Vine Grove for 55 years, he was an Army veteran and held a private pilot's license for 60 years.
Those who had the joy of knowing him and being his friend and family knew he was a giant among men. He had the most compassionate heart and gave of himself in countless ways. He had an adventurous spirit and even crossed the Atlantic Ocean in his single engine plane. Everyone loved that he always, without fail, had a smile to offer everyone he met. It would be impossible to adequately put into words what a godly and faithful man he has been all his life, nor to measure the size of the hole he and Deedie leave in the lives of so many people.
He was predeceased by his wife, Deedie Cooper; one daughter, Elizabeth Lee "Libby" Cooper; his parents, George A. and Mary Belle Cooper; one brother, Jimmy Cooper; and his granddaughter, Katherine Shufelt.
Survivors include his three children, Susan and Dean Sears, Rob Cooper and Mary and Sam Young; seven grandchildren, Erin and Matt Cunigan, Chris Young, Tim and Tiffanie Cooper, Michael and Teri Sears, Teresa Sears and Holdun Reed, Richard and Kathryn Shufelt and Brian and Mary-Kate Sears; 12 great-grandchildren; one brother, George E. "Buddy" and Janet Cooper; and four sisters, Judy McCauley, Betty Jo Cooper, Margaret Jean and Roger Moon and Rosemary and Neil Ray.
A Christian burial mass will be held at 11 a.m. on Monday, May 2 at St. Brigid's Catholic Church in Vine Grove with the Reverend Daniel Lincoln officiating. Interment follows at St. Brigid's Catholic Church Cemetery.
Visitation is from 2-6 p.m. Sunday and continues 10-10:45 a.m. Monday at Nelson-Edelen-Bennett Funeral Home in Vine Grove.
Expressions of sympathy may take the form of contributions to Helping Hand of Hope, 6796 S. Wilson Road, Elizabethtown, KY 42701.
Condolences can be expressed on nebfh.com.