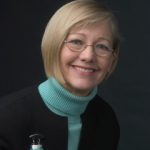 St. Nicholas Cathedral School welcomes Ukrainian students
By Elizabeth Dunlop Richter
"It may seem a little distant to watch the war in Ukraine on CNN, but talk to the music teacher whose father calls every night from a bomb shelter and hear about the children who come to St. Nicholas and walk 21 km to a shelter. It's very humanizing and shows that we are all very connected…"
Josh Hale, CEO of Big Shoulders Fund
For Sophia, a sixth-grade student at St. Nicholas Cathedral School, the war in Ukraine is anything but distant. During my recent visit to the elementary school, she told me about two of her classmates who had arrived from Ukraine in the past two weeks.
"They're all really nice. It feels good to help them. They tell us some pretty scary things about it, but it makes us happy that they came here and have a better life here. Sophia explained that it was very difficult to talk about what was happening in Ukraine. "It's definitely not easy for them… [one told me] it's overwhelming to transfer schools," she said.
The families of the two boys were among the lucky ones who had already obtained visas and were able to leave Ukraine as the Russian invasion began. Sophia, like many of her classmates, speaks Ukrainian and was able to help smooth the way for newcomers. I met Sophia and her friends when they gathered in the dining room for a special treat: popsicles for reaching a SOAR goal. The SOAR program at St. Nicholas Cathedral School teaches students to be safe, focused on their tasks, responsible and respectful. It rewards students for these admirable behaviors throughout the school day in various areas of the school building.
| | |
| --- | --- |
| Principal Anna Cirilli rewards sixth graders with popsicles for reaching a SOAR milestone | Two new sixth graders from Ukraine get their popsicles |
For Anna Cirilli, the headmistress of the school who handed out the popsicles, it was a welcome break from her busy schedule. She is struggling with an almost 17% increase in school attendance in just a few weeks. Attendance had fallen to 150 during Covid, and now with 25 new students it has suddenly reached 175. "All I'm doing now is filling the classrooms we already have with staff," he said. she declared. She knows that the number of students will increase considerably in the coming months. "I try to be as realistic as possible. In order for us to spread to other classrooms, I will have to hire staff and upgrade… Infrastructure is one of my main concerns. [we need paint, new flooring, technology] … My vision is to hire staff for next year when we start having bigger numbers.
Bigger numbers are definitely to come. The United States has agreed to take in 100,000 Ukrainian refugees. Chicago has been attracting Ukrainians since the late 1800s and has one of the largest populations of Ukrainian descent in the United States, estimated at 46,000 residents scattered throughout the metropolitan area. Some 15,000 live within the city limits. The Ukrainian Village, the neighborhood near the west side bounded by Division Street to the north, Grand Avenue to the south, Western Avenue to the west, and Damen Avenue to the east, remains the community center. A variety of Ukrainian institutions, including Ukrainian banks, restaurants, the Ukrainian National Museum, the Ukrainian Institute of Modern Art, youth organizations, and Ukrainian Orthodox and Catholic churches celebrate Ukrainian culture.
In 1906, a group of Ukrainian workers raised funds to build St. Nicholas Catholic Church. The parish elementary school followed in 1936. The establishment of the Eparchy of St. Nicholas of Chicago in 1961 led to the elevation of the church to St. Nicholas Ukrainian Catholic Cathedral. Today, the cathedral and school operate independently under the Roman Catholic Archdiocese of Chicago.
Unsurprisingly, one of Cirilli's main tasks is to get more funding. The Big Shoulders Fund, a mainstay of underfunded schools, has long supported St. Nicholas, providing tuition to many families, administrative assistance, training and teacher recruitment. In fact, its CEO, Josh Hale, recommended Cirilli for his role as director at St. Nicholas. . She was temporarily working at the Ditka restaurant, after teaching in Chicago public schools for twelve years and had just returned from teaching in Italy. Hale recounts his first coffee with Cirilli: "I called my team from the coffee! She said to me, "I would work anywhere in a school that lacked resources" Listening to her speak, I made her loving, caring, [nature and] a certain tenacity to persevere and find solutions. As we took him to schools and I listened to him, I knew he was a leader who was beginning to blossom.
Saint-Nicolas flourished under his leadership. Hale observes, "She lifted this school on her shoulders! They love it. During her seven years as Principal, she worked hard to balance the desire to strengthen Ukrainian culture with the traditions of non-Ukrainian students; the school celebrates Easter by "writing pysanka", ie by decorating Ukrainian Easter eggs. At Christmas, children entertain commuters with Ukrainian carols at Ogilvie Station on a loop.
Even before the current Russian attack, Cirilli was impressed with how well her students understood what was happening in Ukraine. "These students know their history…a student knows 10 times more than I know… [they understood that Russian] the troops have been at the border for some time now… A few days before the invasion, when President Putin gave his first speech, our students told me that we had to do something now and held a prayer vigil. None of us had thought of that. We held a second prayer vigil on March 21, inviting other schools. A school brought in a check for $2,500.
In addition to support from donors like these and the Big Shoulders Fund, the school also receives in-kind support. Cirilli explained: "On a recent Thursday we had a group from the non-profit Inspire through Flowers… they brought 100 bouquets of flowers to hand out. People try to find a sign of welcoming support. A corner of the school gymnasium is dedicated to a clothing drive for newly arrived families who have come with only a suitcase. Teachers and students help sort and fold clothes from retail outlets and families.
The City of Chicago is lending a helping hand to families on St. Nicholas through the Fresh Hubs program. The day after my visit, Cirilli met Mayor Lori Lightfoot at the West Side Fresh Produce Distribution designed to highlight the need for better access to fresh fruits and vegetables in areas without grocery stores.
| | |
| --- | --- |
| xxx | Principal Anna Cirilli speaks with Mayor Lightfoot |
On April 9, Chicago Sister Cities and the Ukrainian Institute of Modern Art presented a benefit event for St. Nicholas Cathedral School, featuring Ukrainian musicians and members of the orchestra and choir of lyric opera.
Besides in-kind and financial resources, Cirilli's biggest challenge is making sure new students feel welcome. "You want them to feel the joy you feel seeing them and expressing it." Cirilli is delighted that many of the school's staff speak Ukrainian, including those who work in the office and canteen, as well as the janitors. Its teachers, however, are only bilingual in kindergarten and first grade, where children often speak only Ukrainian at home. In the upper grades, more than 80% of pupils learned Ukrainian at home and acted as translators.
The history of Chicago is the history of immigrants. The very different ethnic neighborhoods of our city were established for many reasons by people fleeing poverty, discrimination and war, or by others drawn by greater opportunity and family ties. Some enclaves have only token remnants of their early settlers, such as Little Italy, once filled with grocery stores and Italian restaurants, where the UIC campus now stands, and Lincoln Park, where a thriving German community has attracted one Frederick Poppendorf, who in 1885 owned the three -apartment which is now our home. Today, the spotlight is on the Ukrainian village, unfortunately because of a war 8,000 kilometers away.
As Cirilli prepares for an influx of refugees, she is heartened to meet the families of the new students. "[Families] come to the Ukrainian village because they know the name, and it's their first stop… They look happy, calm… it's the ultimate goal… to feel comfortable.
At the same time, she sees their distress at having to accept charity. "They don't know how to accept things from other people because they had what they needed at home… [One woman initially refused an offer of help and told me] "We don't need it" and then she started crying… it's so hard… What's really scary is that these people come from homes like yours and mine. It can happen to anyone. »