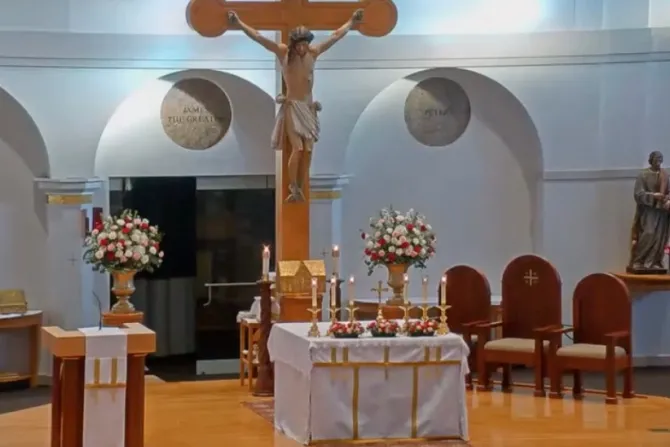 Tabernacle stolen, Catholic church defaced, pregnancy clinic vandalized – Catholic Telegraph
Video shows that as protesters begin to climb the steps of the church towards the security guard, who is standing in their way, a woman falls down the stairs, prompting other protesters to accuse the security guard of pushing her. The video does not show whether the security guard pushes her or not.
The demonstrators then shout swear words at the security guard. A policeman then intervenes between the security guard and the demonstrators on the steps. One of the protesters can be heard on the video saying the group planned to deliver a stack of hangers to the church, an apparent reference to claims that overthrowing Roe would signal a return to illicit abortions 'in the back streets'.
In a statement to CNA, the Archdiocese of Seattle disputed the claim that the protester was pushed down the stairs.
"In light of news last week that pro-abortion groups may be demonstrating during Masses this weekend, the Archdiocese of Seattle issued a communication to all parishes on Friday alerting them to this possibility," the statement read. .
The Seattle Police Department did not respond to CNA's request for information prior to publication.
Biden condemns arson
In one of the previously reported incidents, the office of a pro-life organization in Madison, Wisconsin was set on fire Sunday morning after at least one Molotov cocktail was thrown at the building. The fire was quickly brought under control by Madison firefighters. No one was injured, police said. Graffiti left outside the building read, "If abortions aren't safe, neither are you. In a statement, the White House condemned the attack on the headquarters of the group, Wisconsin Family Action.
"President Biden strongly condemns this attack and the political violence of all stripes. The president has made it clear throughout his career in public life that Americans have a fundamental right to speak out under the Constitution, regardless of their views. But such expression must be peaceful and free from violence, vandalism or attempts to intimidate," the White House statement read.
The anger of proponents of legalized abortion erupted last week when Politico released a leaked preliminary draft notice written by conservative Associate Justice Samuel A. Alito Jr. in a Mississippi abortion case. Politico reported that four more conservative justices were set to join Alito in overturning the landmark 1973 decision in Roe and another decision nearly 20 years later in Planned Parenthood v. Casey who affirmed Roe's nationwide legalization of abortion.
In response, a pro-abortion group Ruth Sent Us called on abortion advocates to disrupt Catholic masses on Mother's Day. The group also posted the addresses of several talkative judges and called for rallies outside their homes. On Saturday, protesters demonstrated outside the homes of Chief Justice John G. Roberts Jr. and Associate Justice Brett Kavanaugh.
Ruth sent us called for another protest outside Alito's house on Monday night.