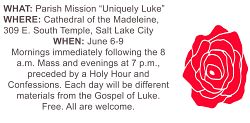 The cathedral will host a parish mission on the Gospel of Luke
Friday 03 June 2022
SALT LAKE CITY — The Madeleine Cathedral will host the "Uniquely Luke" parish mission from June 6 to 9.
Prof. Bartholomew Hutcherson OP, of Western Dominican Preaching, will be giving morning and evening presentations daily. These will be accompanied by the Sacrament of Confession and Adoration of the Blessed Sacrament.
"Part of the pastoral plan of the diocese is faith formation for adults, so this event is to respond to that request of the people," said Fr. Martin Diaz, rector of the cathedral.
The main theme of the parish mission will be the Gospel according to Luke.
The subtitle of the presentation is "looking at Jesus through the eyes of the beloved doctor". Prof. Diaz said the event will feature a bit of theology and a bit of spirituality.
A mission allows parishioners "to take a few days off from their normal activities to reflect on the gospel and their relationship with God and with each other," he said.
Everyone is invited to attend the retreat. This is an adult event in the sense that no activities for children will be offered.
This particular assignment will examine how the Gospel of Luke "speaks to people so that we know that the Holy Spirit is as active today as He was on the first day of Pentecost." Diaz added.
The parish mission is also an opportunity to get away from the business of life "to reflect and pray, to listen a little more deeply to God; it's important," the father said. Diaz said.
The event is planned at the same time as the diocesan priests will be on an annual retreat.
"Priests will take and offer time for reflection to the people of God while the people of God are in this parish mission," the father said. Diaz said.
Attending this event is a great opportunity because "people are always looking for spiritual direction and wisdom from the Church," said Lorena Needham, the cathedral's liturgy and music administrator. "We offer this mission on Luke hoping that people will receive wisdom from the Gospel of Luke."
A similar parish mission will be offered in Spanish in October.
WHAT: Parish mission "Only Luke"
WHERE: Cathedral of the Magdalen, 309 E. South Temple, Salt Lake City
WHEN: June 6-9
In the morning immediately after the 8 a.m. mass and in the evening at 7 p.m., preceded by a holy hour and confessions. Each day will be different material from the Gospel of Luke.
Free. Everyone is welcome.