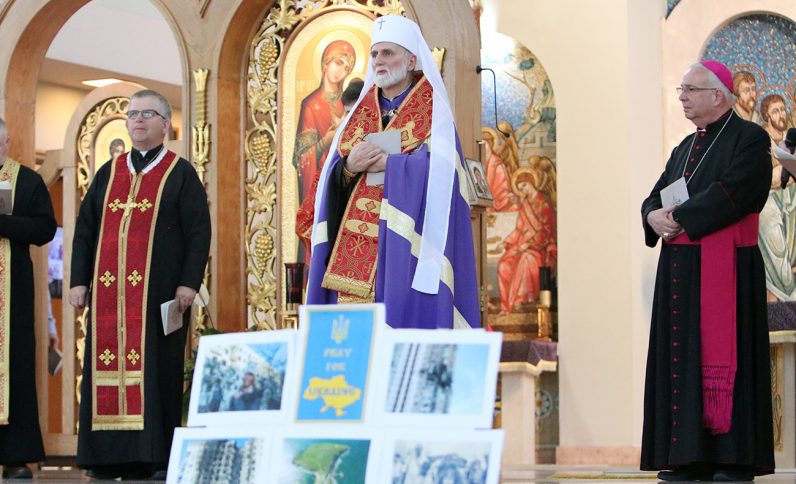 Ukrainian cathedral to host large prayer vigil for peace on March 5 – Catholic Philly
CatholicPhilly.com Staff Report • Posted March 4, 2022
An extensive prayer vigil for peace in Ukraine will be celebrated on Saturday evening March 5 at the Ukrainian Catholic Cathedral of the Immaculate Conception in Philadelphia.
Everyone in the Philadelphia area is encouraged to participate and unite in prayer.
The evening will be broadcast live from 4:30 p.m. on Facebook.
Archbishop Borys Gudziak of the Ukrainian Archieparchy and Metropolitan Archbishop for All Ukrainian Catholics in the United States, and Archbishop Nelson Perez, Archbishop of Philadelphia, will preside over the vigil, which includes prayers and talks for more than four hours .
The Prelates "encourage all people of goodwill to show solidarity with the Ukrainian people and Ukrainians in the United States by joining this prayer initiative in person or remotely," according to a media advisory issued March 4. by the Archdiocese of Philadelphia and Ukraine. Archeparchy.
The vigil program is as follows:
4:30 p.m. — Divine Liturgy of Saint John Chrysostom (Byzantine Rite Mass)
In English with parts in Ukrainian
6 p.m. — Vespers of the Resurrection for Sunday
In English and Ukrainian
7 p.m. — Reflection of Metropolitan-Archbishop Gudziak: "The war in Ukraine in the light of the Gospel"
7:30 p.m. — Opportunity for personal testimony and questions
8:15 p.m. — Reflection by Bishop Pérez
8:30 p.m. — Rosary led by Bishop Pérez
In English
9 p.m. — Final Prayer for Peace in Ukraine and Prayer of Jesus
The Sacrament of Penance and spiritual counseling with Ukrainian and Latin Byzantine Rite priests will be available throughout the vigil.
The Cathedral of the Immaculate Conception is located at 830 North Franklin Street in the Northern Liberties neighborhood of Philadelphia.
Learn more about the cathedral here.
According to the notice, the Ukrainian Greek Catholic Church has launched a virtual platform Ukrainian Catholic Crisis Media Center to centralize information on the church's initiatives in the face of the Russian invasion of Ukraine which began on February 24.
Every day, the web page at UCCMC.org is updated with a video message from Major Archbishop Sviatoslav Shevchuk of Kyiv-Halych, who is currently in Ukraine.