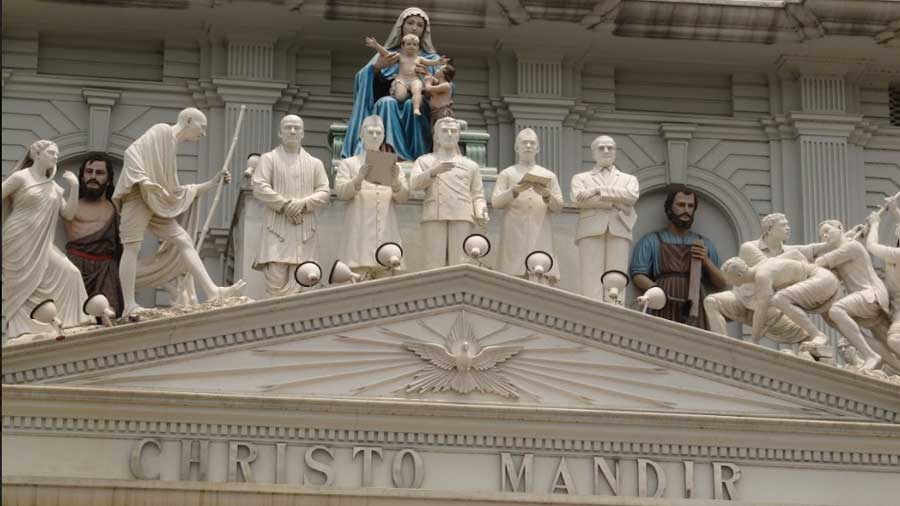 Visit the Churches of Bengal: Roman Catholic Diocese of Krishnagar
With its crazy crowds, messy urbanization and chaotic traffic, Krishnagar, at first glance, doesn't seem quite the right place for heritage tourism.
But, go through the door of the Roman Catholic Church located in Don Bosco para, and all doubts are dispelled. A green lawn and a beautiful century-old church – complete with a large clock tower and dome – greet visitors, as if a little piece of Europe had been kept intact in this Bengal town.
The church is located in the Don Bosco para de Krishnagar
Somen Sengupta
While the history of this piece of land dates back to 1822, the history of the church began in earnest when a team from the Pontifical Institute for Foreign Missions arrived in Krishnagar from Milan. Father Luigi Limana asked the municipality to use the land to found a Catholic society. There, on September 1, 1886, he erected the first Catholic church in the region. Francis Pozzi was appointed its first bishop. In 1887, the church received its official name – the Roman Catholic Diocese of Krishnagar – although it is now simply referred to as "Catholic Church".
The church was destroyed in an earthquake in 1897. But in two years, thanks to the efforts of Bishop Pozzi, a new cathedral, still considered one of the most beautiful in Bengal, was built on its site. current and inaugurated on March 19. 1899.
A statue of Jesus holding a cross on the front pediment, with the great dome of the church in the background
Somen Sengupta
In 1928 control of the church was taken over by the Salesians of Don Bosco.
The church is very distinct in its design and physical beauty. Neither Gothic, Neoclassical or Victorian, it presents a mixture of different styles of architecture. Although its shape is largely European, it still stands out from other churches built during this time.
The front pediment is supported by four pillars, which are not Ionic, Doric, or Corinthian in style. Instead, a touch of Tuscan design is visible in these pillars.
Statues of Catholic Saints
Somen Sengupta
A large exit under the pediment has two Romanesque arches covered under another larger arch and supported by three Corinthian pillars. The lower part of the pediment has two swan neck extensions facing each other, giving the structure a royal touch. At the top, there is a statue of Jesus holding a cross in his hand.
Underneath the pediment, just after another line of floral designs, a line is carved in Bengali which reads: "Eshwarer Griho – Swarger Dwar" – which means "the house of God – the gate to heaven".
Inside the church, many oil paintings and some period furniture still exist. Being a Catholic Church, it houses idols of Jesus, Mary and others.
Many oil paintings still exist inside the church
Somen Sengupta
In 2009, a large structure called 'Christo Mandir' was built right in front of the old church.
It is a huge prayer hall-exhibition hall, decorated with superb sculptures of religious and social importance. On its outer wall, statues of saints like St Augustine, St Pauls, St Francis Xavier, St James etc are installed.
A massive wooden door with an engraved figure of Christ greets people in
Somen Sengupta
The floor of the hall is all marble and the walls are adorned with sculptures and paintings on glass depicting the life of Jesus and stories from the Bible. The hall has provisions for visitors to rest and pray.
Christo Mandir's exterior pediment has sculptures of famous figures like Mahatma Gandhi, Subhash Chandra Bose, Sardar Patel, Jawaharlal Nehru, BR Ambedkar and even a British royal.
An ark with carvings showing Jesus from his birth to his crucifixion
Somen Sengupta
Standing on four heavily ornate Corinthian pillars, the portico is completed by a solid wooden door with an engraved figure of Christ. The central arch on one side of the wall features carvings depicting Jesus from his birth to his crucifixion, while many scenes from the Bible are painted on the glass panes covering smaller arches.
Scenes from the Bible Painted on Windows
Somen Sengupta
Although the old church sporadically opens to the public, the new structure welcomes tourists every working day. It is especially popular during Christmas and New Years week when tourists and locals visit the place to celebrate. However, due to the pandemic, the celebrations have been limited to some extent.
Somen Sengupta has a passion for heritage and travel and has written about it for 26 years. When not working as a senior executive in a multinational corporation, he keeps an eye out for intriguing historical anecdotes and unearths forgotten stories. It also makes him a quiz enthusiast.